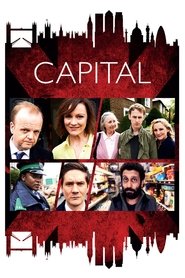 Capital
Set on a single street in South London, Capital is a portrait of a road transformed by soaring property prices: what was once the home of modest lower-middle class families, Pepys Road has been continuously gentrified into a street of multimillion pound houses. On one day, the people of this South London street all receive an anonymous postcard with the simple message 'we want what you have'. Its unsettling ripples affect every corner of the community.
Genre: Drama
Actors: Adeel Akhtar, Andrew Gower, Arthur Bateman, Bryan Dick, Danny Ashok, Gemma Jones, Hamza Jeetooa, Kaiya Bakrania, Kobna Holdbrook-Smith, Lesley Sharp, Matthew Marsh, Mona Goodwin, Rachael Stirling, Radoslaw Kaim, Robert Emms, Shabana Azmi, Toby Jones, Wunmi Mosaku
Studio: British Broadcasting Corporation, Kudos Productions Ltd.